Would you love to spend your New Year's break with the kids from YouMe School, in a remote area of Nepal?
We are currently seeking applicants for the "YouMe School Visit Programme", where you can visit YouMe School in Durrchim village in Khotang, which was built by our organisation in 2012, and rebuilt with a new school building in 2015. This programme is designed to build awareness and understanding through a number of different activities and experiences at YouMe School.
– A trip to the school above the clouds, in an unchartered area of Nepal
– Create and implement your own workshop at YouMe School
– Cultural exchange with the YouMe kids, teachers and villagers
– Learn how the locals live. (Preparing food, exploration trekking around the area)
– See the first sunrise of the new year from a mountain village, looking out over Mt. Everest and the Himalaya mountain range
– In a village with no electricity, high in the mountains, experience stargazing at a night sky full of stars.
and more!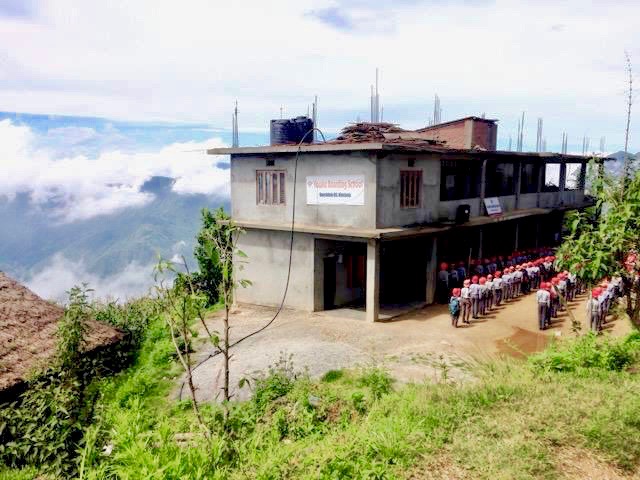 [Purpose]
To visit YouMe School, which would be extremely difficult to reach without the help of the locals, and to experience firsthand the environment that these kids study in. Also, by being immersed in the villages' traditional way of living, to move beyond your comfort zone and gain a new perspective on life.
[Accommodation] The local staff will make sure to secure a safe hotel for you at both Kathmandu and Khotang.
[Transportation]
You will be transported in a private rental car (4WD) for only the staff and the participants.
[General Programme Schedule] Arrive at Kathmandu – Tribhuvan Airport
↓
Stay the night in a Kathmandu inner city hotel
↓
Depart Kathmandu in the morning. 8 hours later, arrive at Durrchim village, Khotang.
↓
Local homestay
↓
Depart from Durrchim village. 8 hours later, arrive at Kathmandu
↓
Stay the night in a Kathmandu inner city hotel
↓
Depart from Kathmandu Airport
[Be Aware] Worried about traveling to a place like Nepal? Nepal is by no means a dangerous country. Since the country became a democracy, public order has been very stable, so please don't worry about safety. However, especially for a visit to a mountain village like this one, there will be a lot of traveling and walking. You will need to have a bit of endurance!
The flight from your country to Kathmandu will probably take up most of a whole day. In addition to this, the trip from Kathmandu to YouMe School in Khotang will be a bumpy 8 hour ride in a 4WD along rough roads. During your stay in the village you will also be walking long distances everyday. Although our local staff is putting the utmost consideration into creating a programme which keeps the participants as safe and healthy as possible, for those who are unused to long journeys such as this, and especially to a very Spartan lifestyle with no electricity, water or gas, it will be a bit more exhausting than you might think.
Make sure you are prepared for this, and if you are chosen for the programme, try to keep yourself healthy and maybe even do some training to make sure you are strong for the trip.
(But, in saying this, don't worry too much! If you have a healthy curiosity and a desire to learn, you'll be able to overcome anything😊)

[Participation Requirements]
1. We are looking for healthy men and women above the age of 20, who have an interest in the activities at YouMe School. (For those under 20 who still wish to apply, please contact us directly. We would still love to have you along, so let's work out a way we can make it happen!😊)
2. To ensure a level of security required for a visit of this nature (Visiting and staying with the elementary school students), as a general rule, we are seeking those who are already acquainted with a Member of YouMe Nepal or who are staff members. (But please contact us if you would still like to apply and are not acquainted with a Member).
(This includes Administration, Endorsed Members, Foster Parents, or Teacher Support).
※There is also the possibility to become a member at the same time as applying for the visit programme.
Endorsed Members: Joining fee – Free.
Yearly Membership Fee – Individual 10,000 Yen.  Student 3000 Yen.
3. We will require you to buy your send your application, letter of consent and buy your plane ticket at least 2 weeks before departure.
4. The programme fee must be paid in advance to YouMe Nepal before departure.
(You will also need money for times when you will not be accompanied by a local YouMe Nepal staff member, such as for food, everyday items and souvenirs.)
Estimate of Costs (For a 3 night stay in Khotang)
1〜3 participants 45,000 JPY
4 or more participants  30,000 JPY
(Airfares are not included. See below for a breakdown of costs)
※If you also wish to visit places other than YouMe School we would be happy to consult with you.
[Stories from past participants]
1. Kimi(February 2014)
I'm jealous that you might be going to Nepal! A week before the trip I bought a guidebook about Nepal, so I felt I had some idea of what it would be like. In amongst the hustle and bustle of oriental Bazaars which I'd always been drawn to, solemn temples lined up, as if you'd travelled through time. Dal Bhat and Tibetan food looked so delicious. I turned the page of the guidebook, and this time, a beautiful mountain. Mountains in Japan are green, but Nepal's mountains are blue and white. A perfect match for the clouds and morning sun. How amazing would it be to travel freely in a place like this, unfettered by the obligations of Japan.
The reality of Nepal did not disappoint. Nepali people are inexplicably kind, and their smiling faces hold no hint of malice. The adults would sit relaxing in happy circles of chairs outside their houses, while the children would rush up to you asking you to play with them. Just by staying there I felt as though my heart had been cleansed. That was the final week of University for me. Japan is great in its own way, but there is a certain something that Japan seems to have lost, that is definitely present in Nepal. So even while I work, I find myself mumbling under my breath involuntarily "Ah, I wish I could take a break and go back to Nepal."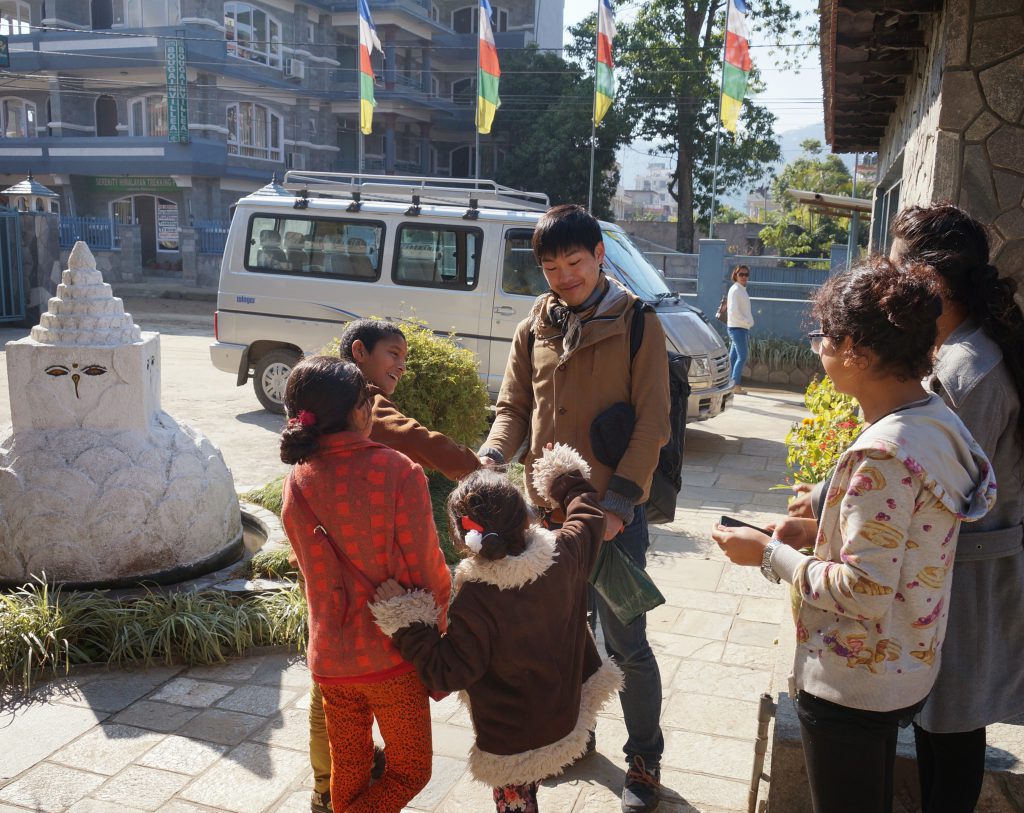 2. ERIKO(2016.5)
At Rai's family home, there's a child who lives there, who's not related to their family in any way. His name is Tanaka. Even though his name sounds like a Japanese surname, he's a Khotang-born and raised, member of the Rai household.
His family's place is down the hill a bit from Rai's house. But if he has a family, why is he living separately from them? I was a little curious, but I knew that it was also common in South America to live together with people who were not related by blood, so I didn't think much of it at first. Tanaka is now 8 years old. His hard working personality always caught my eye.
…
As we were leaving Rai's house, I remember Tanaka scrambling to find my sister Sate's scarf that she had forgotten and running to catch up with the moving car to give it back to us. The sight of him running with eyes sparkling, he was so full of goodness and life. I really believe there are certain people who touch your heart just through their everyday existence. Meeting Tanaka and being able to experience a new set of values I'd never felt before, is something I'll always treasure.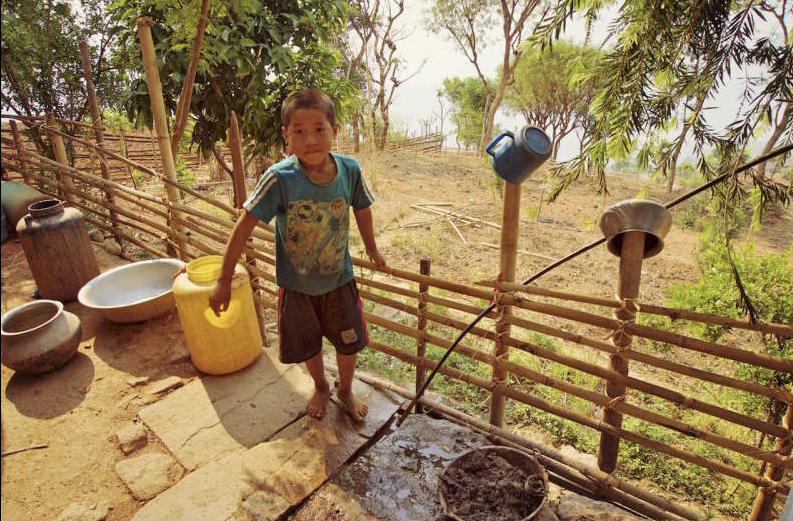 " The life of 8 year old Tanaka, who lives at Rai's house " Taken from the blog of Model and permanent traveller ERIKO
(Link here (in Japanese)):http://youmenepal.org/ja/news/2136.php)

3. Shiori(2016.1)
Happy New Year! I spent the New Years period in Nepal, which has a different calendar to Japan. (Perhaps that's why it doesn't feel like New Year's at all, haha!)
Two connecting flights from Japan, and around 9 hours in a Jeep later… In a place that's so very very far, you feel like you can feel the distance, there stands Khotang's very own YouMe School. I was allowed to visit the school, which my senior at APU named for "You and Me" and the Japanese word for dream, "Yume".
There I met a 6 year old boy who did a 6 hour round trip commute to and from the school, saying "I want to learn".
I met a 5 year old girl who came to YouMe School every single day at lunchtime, who told me "I actually want to go to YouMe School. I want to learn more." She would gaze at YouMe School enviously from the government school which she attended further up the hill.
I met a boy whose parents were so financially troubled that they would never have the income to send their son to school. But the determination of the boy with the seemingly impossible dream of going to school was so admired by the townspeople that they gave him a scholarship so that he could attend.
I met my host family mother, who told me how happy she was that her children could go to YouMe School, with a bright, full-faced smile.
I met the local staff who are so close with the children, continuing to support them, sometimes as mothers, sometimes as big sisters, and sometimes as good friends, but all the while saying "I want to change these kids' futures."
YouMe School was packed with so much love, and filled to the brim with the dreams and aspirations of so many people.
I could have gone decades living my daily life without meeting as many inspiring people as I did on this trip. If I hadn't set out to find them, I wouldn't have been able to learn the many things they had to teach me. I have nothing but gratitude for all of these encounters.
Clean, clear water that flows when you turn the tap. A hot shower you can use anytime, 24 hours a day. A flushing toilet. A washing machine that washes your clothes beautifully with just the touch of a button. A heater which warms your room with a remote control. No worrying about whether you will have light when the sun goes down. The ability to contact your friends any time you feel like it. This is what it means to live a wonderful convenient Japanese lifestyle.
On the other hand, huddling together to keep warm when it's cold. Walking along the road all together at night in the pitch black with only torches to light the way. Considering carefully how to use each day's restricted amount of water in the most efficient way. Climbing down a steep cliff to find a spring to wash your clothes when you need to do laundry. This is the Khotang way of life. It was definitely tough, but for some strange reason, I also found that lifestyle to be "wonderfully convenient". It must be because, somewhere inside of me, my understanding of what makes something "wonderful" or "convenient" has changed completely.
I hope I get to see a day where I can be reunited with those YouMe Kids!
(Taken from http://youmenepal.org/ja/news/1879.php)
4. Motoki (2016.1)
"Seeing is believing". This saying never rang more true for me.
It was one thing, hearing about a world with no electricity, gas or running water, where kids have to wake up early in the morning to work and wanting to experience it for myself. But seeing it with my own eyes, the reality of it hit me hard. Or rather, I realised that when I heard about it, I really knew nothing about it. After the experience, I felt like for the first time in my life, I could explain to someone what the world was really like, and I wanted to tell everyone I could about what I had experienced.
There are so many essays trying to explain the reality of the world, like "What if the world were a 100 person village". But I came to learn, that the fact that we are so incredibly lucky to have been born in a country like Japan, is something you can only truly understand and continue to appreciate if you have experienced the alternative.
I think that from now on I'll always have the memory of those kids from Nepal in the back of my mind. It made me realise that the only way to live without feeling embarrassed by the memory of those strong, tough kids, is to take advantage of the amazing environment I've been placed in, and to find work doing something that will make others happy.
The memory of those kids never fails to give me motivation.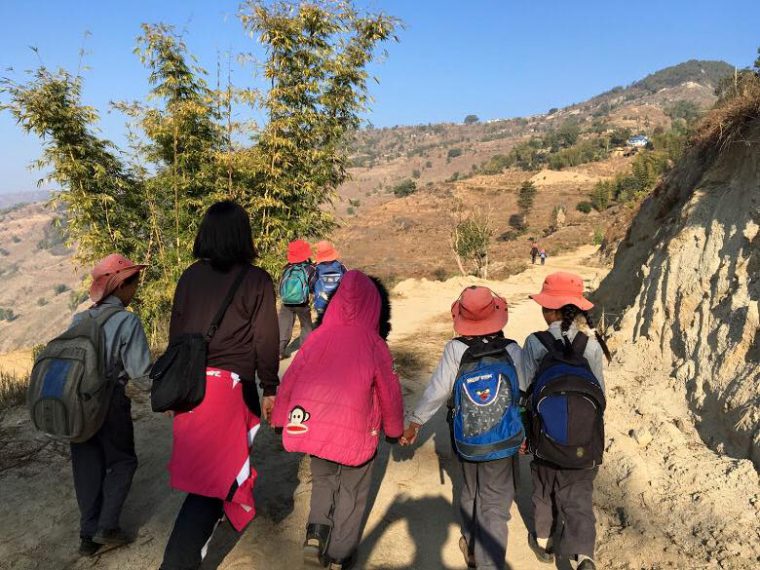 (From http://youmenepal.org/ja/news/1926.php)

5. Masa(2015.3)
When I visited Khotang, it was March. There was still snow on the mountains and the air was so pure, I was completely touched by the majesty of nature. Even though I had never met the people living there before, I somehow had this nostalgic feeling that I had missed them. They were so direct and open that it made me feel they had a certain something that Japanese people of the past used to have, but have forgotten in modern times. Even if that was the only realisation that came out of the trip, it still would have been worth it just for that feeling.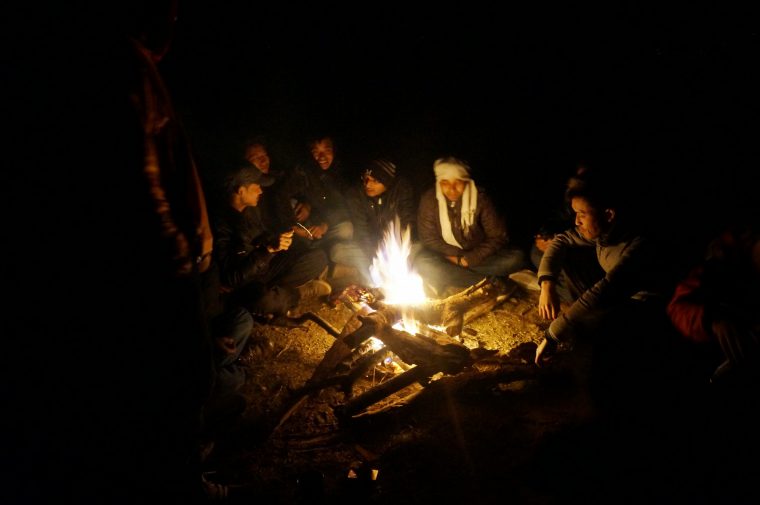 6. Yuka  (2016.1)
Going on this Nepal trip really reinforced the importance of education for me. Having an environment to learn, and being able to make the most of that environment to study. A society where children can dream and have their own aspirations. These are all things which we, as adults, have a responsibility to provide. Nepal has its own challenges, as Japan has its challenges. But in both places, I believe that it is necessary to invest in education and provide better environments for study. I feel that children are the ones who will carry us into the future, and creating a society where those children can aspire to be what they want to be, is our responsibility as adults.
I try and live by the quote, "Knowing is the first step to understanding". But I feel like this Visit Programme was a really important first step for me. I would love to be able to visit again some day.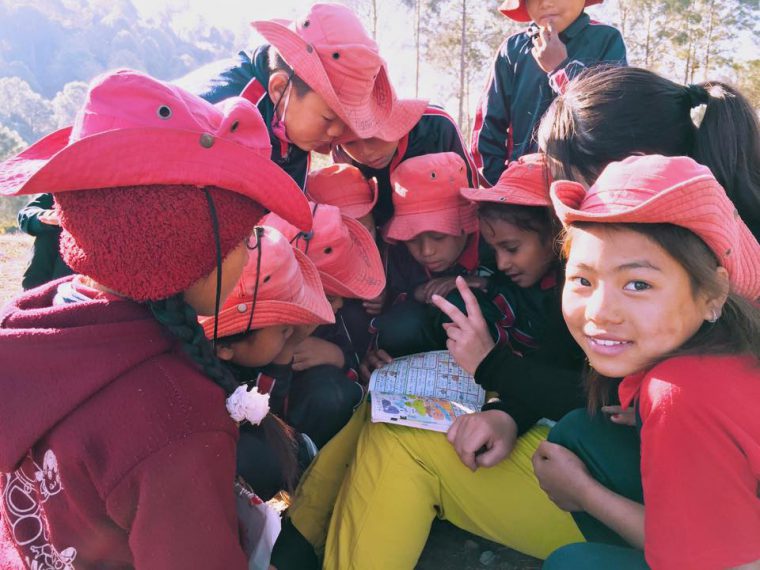 [Breakdown of Fees] Transportation within Kathmandu
A YouMe Nepal Staff member will come to pick up participants from the Kathmandu Airport. Then they will take you to your hotel accommodation in Kathmandu.
Taxi Fee – About 1,000 JPY
Hotel Accommodation – About 3,000 JPY per person
(Depending on the hotel grade. This is about the price for the hotel which we have always used for past participants. For experienced travellers, you may be able to find a guest house or the like for less than 1,000 JPY.)
There are currency exchange services around the hotel area which offer better rates than the Japanese domestic, or Kathmandu airports. We recommend changing money for shopping, food or souvenirs here.
Food
Meals are around 200 JPY〜1000 JPY per meal. For the times when you are accompanied by a YouMe Nepal Staff member, they will pay for the meals for all participants together. (It is often cheaper this way).
During your stay in Khotang, your homestay will provide two meals a day for you at breakfast and dinner. It's not common to take a meal at lunchtime in Khotang, but the YouMe School students sometimes have a light meal of cookies or snacks. There are food stands that locals run near the school, but the prices are higher than in Kathmandu city.
Transport from Kathmandu to Khotang
There are busses running on a fixed schedule every morning from Kathmandu to Khotang, but not many drivers speak English and it is very difficult to use these busses unless you are Nepalese. Because of this, the YouMe Nepal Team rents 4WD jeeps with drivers especially for multiple visitors. This means it is much easier to stop when needed, makes for a much smoother ride and is generally a much better option than the bus.
Jeep Rental Fee:One way 20,000 JPY / car(Round trip 40,000 JPY)
(If split between 5 passengers, a round trip will cost around 8,000 JPY per person)
There may be a possibility that not all participants can be transported on the same day. In this case, it may be necessary for participants to take the fixed timetable bus, accompanied by a YouMe Nepal staff member for your safety (at participant's expense).
Bus Fee:One way About 4000 JPY / person
(In the case of a staff member accompanying the participant, round trip would be about 16,000 JPY)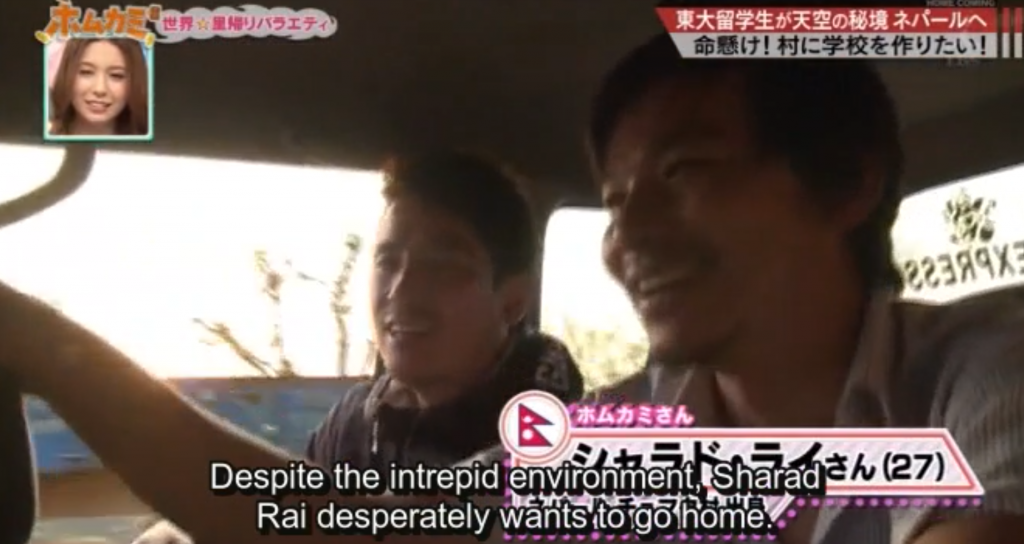 (You can watch this movie with English subtitle from here! )
※Expense Breakdown Example (1):4 people visiting together, 3 night stay in Khotang
<Expenses paid in advance>30,000 JPY
☆Direct Expenses
Taxi from Airport to Hotel: 1,000 JPY/ 4 people
Hotel Accommodation: 3,000 JPY
Taxi from Hotel to Rental Jeep Meeting Place:1,000 JPY/4 people
Transport to Khotang by Jeep: 20,000 JPY/4 people
Homestay Accommodation: 1,000 JPY×3 nights
Transport from Khotang to Kathmandu by Jeep: 20,000 JPY/4 people
Taxi back to Hotel:1,000 JPY/4 people
Hotel Accommodation: 3,000 JPY
Taxi from Hotel to Airport: 1,000 JPY / 4 people
☆ Programme Overheads(About 1/3 of the total cost)
・Administration Expenses
(Preparations and arrangements made by YouMe Nepal staff, YouMe School teaching staff and local villagers.)
・YouMe Nepal business administration support expenses, (For the continuation of YouMe Nepal's charitable activities. )
<Other expenses covered by the individual participant> Around 4,000 JPY
Meals in Kathmandu: Around 3,000 JPY
Light Meals in Khotang: Around 1,000 JPY円
Other daily necessities, clothes, souvenirs
※Expense Breakdown Example (2): 1 participant, 3 night stay in Khotang
<Expenses paid in advance> 45,000 JPY
☆Direct Expenses
Taxi from Airport to Hotel: 1,000 JPY
Hotel Accommodation: 3,000 JPY
Taxi from Hotel to Bus Stop: 1,000 JPY
Bus to Khotang with YouMe Nepal Staff Member: 4,000 JPY×2
Homestay Expenses: 1,000 JPY ×3 nights
Bus back to Kathmandu with YouMe Nepal staff: 4,000 JPY×2
Taxi back to hotel:1,000 JPY
Hotel Accommodation: 3,000 JPY
Taxi from hotel to airport: 1,000 JPY
☆ Programme Overheads(About 1/3 of the total cost)
・Administration Expenses
(Preparations and arrangements made by YouMe Nepal staff, YouMe School teaching staff and local villagers.)
・YouMe Nepal business administration support expenses, (For the continuation of YouMe Nepal's charitable activities. )
<Other expenses covered by the individual participant> Around 4,000 JPY
Meals in Kathmandu: Around 2,000 JPY
Light Meals in Khotang: Around 2,000 JPY円
Other daily necessities, clothes, souvenirs
 [Applications and Enquiries] For those wishing to apply:
Please fill out and submit these two forms online.
If you have any other questions or concerns, please feel free to contact us at info@youmenepal.org .


We're looking forward to hearing from you!